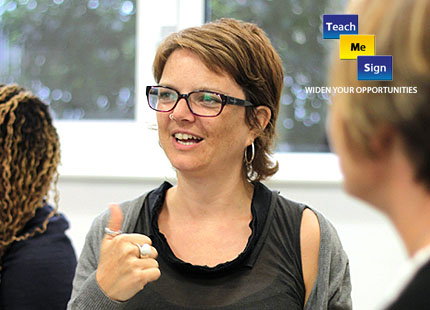 Course Objectives
To introduce yourself and others using BSL
Learn, understand and use simple sentences in BSL
Learn to finger spell places, names and objects
Understand and learn numbers, including prices and times
Discover everyday topics and learn to discuss them using BSL
Students will need to do more self-directed learning through Student Space - receptive clips, Grammars etc
And much more!
Ideal For Those
Who wish to discover the basics in BSL
Who work/volunteer (or seeking to) with Deaf or hard of hearing people
Seeking to learn a new language
Looking to broaden their communication skills
Learn well with visual teaching methods
Summary
Fully accredited by Signature
Ideal for beginners who want to learn BSL
Friendly teaching with online resources
Understand the basics of BSL
Learn to have a conversation using BSL
Achieve your BSL level 1 certificate
No entry requirements, just a will and enthusiasm to learn!
Weekly course
Fresh and new approach to teaching BSL Level 1!
Included Topics
BSL 101: Introduction to BSL
BSL 102: Conversational BSL
BSL 103: Communicate in BSL about everyday life
Further Information
You may be able to attend a FREE BSL taster session for this course. Be sure to check out the "Free Tasters" section of our website, or get in contact with us
Course fee is available to pay in instalments at no extra cost
Please contact us for your course information guide or to enrol
Spaces are limited and operate on a first come first serve basis
Central London
Monday 13th September 2021
450
Starts:Monday 13th September 2021
When: Every Monday evening from 6:00pm to 9:00pm
Course duration: 14 weeks
Accredited by: Signature
Online resources available: Yes
Venue: Audley House, 13 Palace Street, Westminster, SW1E 5HX
Closest Tube: St. James's Park and Victoria
Payment Options: Available to pay in instalments at no extra cost