"We can equip ANY company with the right skills"
"We will help and train you to your specific needs"
"Easy to learn and remember"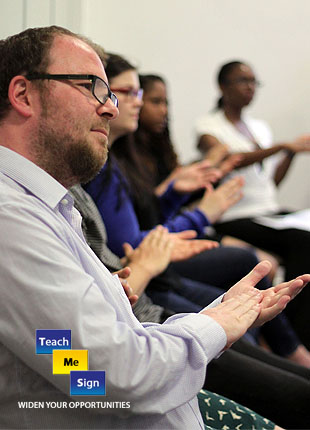 Introduction
Would you like to get your establishment Deaf Aware? Are you interested in enriching your staff with useful British Sign Language skills? Then Teach Me Sign are glad to provide their professional teaching services to you.
We offer 2 main workshops:
Deaf Awareness
Introduction to British Sign Language
Each training session is two hours long and helps students to discover interesting and worthwhile topics, and offer highly skilled and professional tutors to engage and educate.
How do I know which training is right for my establishment?
Our Deaf Awareness workshop will look at various levels of Deafness and provide you with an understanding of what it means to be Deaf/hard of hearing. We will educate you on what correct and fair communication should be used used and various other Deaf-related barriers you can remove at your establishment.
An Introduction to BSL looks at the language of BSL and will give all attendees basic but highly effective and necessary skills in British Sign Language. They will discover how to have a simple conversation with a Deaf person. Attendees will learn to introduce themselves and others, and create simple BSL sentences using the correct grammar.
We can equip your establishment with essential skills in Deaf awareness and an Introduction to BSL to break down outdated barriers between deaf and hearing individuals. Whatever the nature of your establishment is, and whatever the size, Teach Me Sign will cater and design the training to your specific needs.
Can I make a booking enquiry?
Please contact us for more information and we will happily assist you with any queries and provide you with an information pack for your desired training. We can also provide you with our availability.
Whoever you are, however big or small the company we will help and train you to be Deaf aware.
Testimonials
From our many visits offering educational sessions, we have received glowing responses regarding the training we have provided. We would love to share some of these experiences with you to show just how rewarding this training can be for your establishment.
It was so interesting to learn about barriers Deaf people have to face in day to day life and what is and isn't available to overcome them. I highly recommend attending this course even if you don't intend on learning BSL because it is important to be aware of Deaf culture and communities.
Hannah, Deaf Awareness Training
All our participants at Introduction to BSL gave it 5/5 stars and definitely would recommend it!
Phillip, Queen Mary University of London
I loved the Deaf Awareness training Teach Me Sign provided, it was amazingly insightful and I would highly recommend this to any company that comes into contact with the general public because you never know and it's so important to give everyone the same standards.
Emma, Deaf Awareness training at BRITS school
Really special and so worthwhile. Every establishment should be doing this workshop.
Glen, Southampton Police
Whole team are very supportive, fantastic teacher who makes learning fun therefore enjoyable and easy to learn.
Tina, Deaf Awareness training