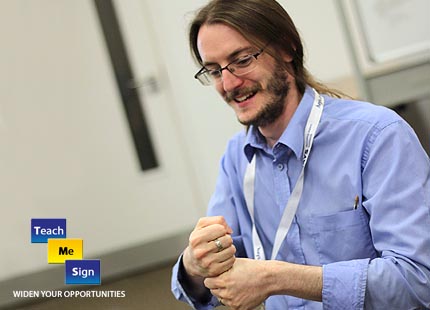 Course Objectives
Develop your BSL vocabulary, grammar and fluency.
Learn to deliver complex presentations in BSL.
Understand BSL linguistics theory and put it into practice.
Build on your receptive skills to be able to understand BSL in a variety of situations.
Understand complex instructions and discussions in BSL.
Outcomes
Sign with fluency and speed to a high BSL Level 6 standard. You will be equipped with the skills you need to take your signing to the next level and communicate independently and confidently with Deaf people in a range of scenarios.
You can use your qualification to enter Level 6 interpreting qualifications required to become a BSL interpreter.
You will be taught with encouraging and nurturing teaching methods and have a brilliant learning experience with group, pair and individual activities. Online resources will support your learning experience.
Summary
Fully accredited by iBSL
Ideal for those who are looking to be professionals within the Deaf community, such as BSL interpreters.
Learn to use and understand complex BSL in a range of work and social situations.
Supportive and engaging teaching to ensure a brilliant learning experience along with our unique online resources.
In depth and specified topics, such as BSL linguistics theory, presentation skills and receptive skills.
Included Modules
iBSL6AUN: Understand complex BSL in a wide range of work situations.
iBSL6ASN: Use complex BSL in a wide range of work situations.
iBSL6ALN: BSL Linguistics Theory and practice.
Further Information
You may be able to attend a FREE BSL taster session for this course. Be sure to check out the "Free Tasters" section of our website, or get in contact with us
Course fee is available to pay in instalments at no extra cost
Please contact us for your course information guide or to enrol
Spaces are limited and operate on a first come first serve basis
Central London
Tuesday 13th September 2022
1,750
Starts: Tuesday 13th September 2022
When: Every Tuesday evening from 6:00pm to 9:00pm
Course duration: 35 weeks
Tutor: Ahmed - Uses BSL as his first language
Accredited by: iBSL
Venue: Audley House, 13 Palace Street, Westminster, SW1E 5HX
Closest Tube: St. James's Park and Victoria
Payment Options: Available to pay in instalments at no extra cost
If this London course is not suitable, our online courses are available here
Central London
Friday 30th September 2022
1,750
Starts: Friday 30th September 2022
When:One Friday per month, from 10:00am to 4:30pm
Course duration: 11 months
Tutor: Ahmed - Uses BSL as his first language
Accredited by: iBSL
Venue: Audley House, 13 Palace Street, Westminster, SW1E 5HX
Closest Tube: St. James's Park and Victoria
Payment Options: Available to pay in instalments at no extra cost
If this London course is not suitable, our online courses are available here