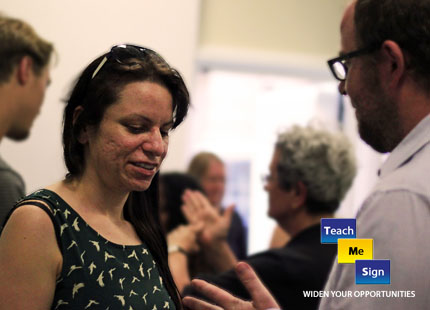 Ideal For Those
Require flexibility
Unable to get to a class in person
Learn better with private tutoring
Wanting to learn BSL at any level (we can provide tuition in BSL Levels 1, 2, 3, 4 and 6)
Already enroled in another BSL course but wanting additional support
Summary
If you are looking to learn British Sign Language privately, Teach Me Sign can provide professional teaching staff to help you. If you are aiming to achieve a fully accredited course, or are just interested in an introduction to BSL, our one to one tutoring can enable you with the materials and high quality teaching you need.
With reasonable rates and friendly, encouraging and engaging teaching methods, we are confident you will love learning BSL with our wonderful teachers.
Private one to one tuition is charged at £30 per hour.
Further Information
Whether you're a beginner or an experienced signer if you would like private live teachings we will do our best to assist you.
Contact us for prices and suitability.