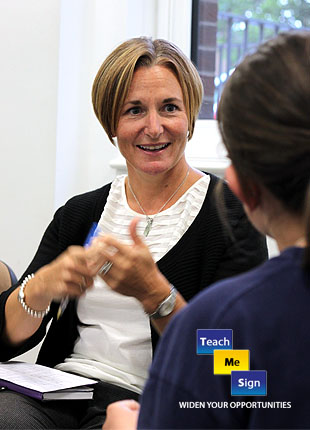 What does Teach Me Sign do?
At Teach Me Sign we provide excellent British Sign Language courses and Deaf awareness workshops. Whether you are an individual looking to learn BSL, or an organisation seeking to improve your awareness of Deaf people, we will have a training programme to suit you.
We will offer continuous support throughout your course from tutors who are passionate about your success. Our approach to learning is based on our desire to offer you the best opportunity to achieve your goals!
We're in it for the long run! Many of our students decide continue on with us to the next training level, which is a reflection of how much we value our students. Please see our testimonies to see some the glowing feedback we have received from our successful students.
What experience do you have?
With 13 years BSL teaching experience and a 99% pass rate, we are confident you will achieve highly with Teach Me Sign.
We pride ourselves in the way we teach, keeping our lessons fun and engaging to enhance your learning. Our experience has shown that students fully apply themselves to learning and succeed when they find their course enjoyable! We are also very proud to have been nominated for the Deaf Business Awards in 2018.
If you are interested in learning with us at Teach Me Sign, please contact our friendly and supportive team who will happily discuss what the right course for you will be.
"99% pass rate"
"12 years BSL teaching experience"
"We're in it for the long run!"
A message from the founder
"Hello, and thank you for visiting Teach Me Sign's website. We are the home of British Sign Language where learning is a fun and rewarding learning experience for everyone involved. Being profoundly Deaf since a very young age, I have always been determined to break communication barriers between hearing and Deaf people. As a result, Teach Me Sign was born.
I have been teaching BSL for over 13 years and every time my students gain their accredited certificate it reaffirms to me why I do what I do. Some of my students are seeking a new hobby, some want to learn because they have a Deaf friend, colleague or family member, some wish to incorporate BSL into their lifestyle and some want to start a career within the Deaf community. Whatever your reason, whatever your previous experience, if you learn with me at Teach Me Sign I personally guarantee you a positive learning experience you will never forget!"