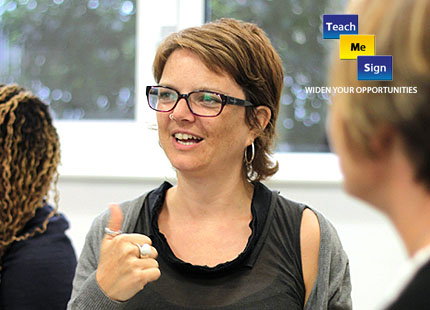 Course Objectives
To introduce yourself and others using BSL
Learn, understand and use simple sentences in BSL
Learn to finger spell places, names and objects
Understand and learn numbers, including prices and times
Discover everyday topics and learn to discuss them using BSL
Students will need to do more self-directed learning through Student Space - receptive clips, Grammars etc
And much more!
This Course is Ideal For Those
Who have busy lifestyles
Who require flexibility
Unable to get to a class in person
Who work/volunteer (or wish to) with deaf children or adults
Who have a family member, friend or colleague who is Deaf
Wishing to integrate British Sign Language into their job/life
Who learn effectively using visual methods of teaching
Who are looking to learn a new language
Looking for a new hobby or interest
Summary
Fully accredited by Signature
Ideal for beginners who want to learn BSL
Friendly teaching with online resources
Understand the basics of BSL
Learn to have a conversation using BSL
Achieve your BSL level 1 certificate
No entry requirements, just a will and enthusiasm to learn!
Weekly course
Fresh and new approach to teaching BSL Level 1!
Included Topics
BSL 101: Introduction to BSL
BSL 102: Conversational BSL
BSL 103: Communicate in BSL about everyday life
Feature of Your Online Course
As a student of Teach Me Sign, you will have access to amazing online resources such as videos, quizzes and tests that will help practice your signing from the comfort of your own home to ensure your learning experience is a successful one.
We never compromise quality; your online learning will be of the same high standard we use in all our classes. We encourage and support our student's and are on hand to contact via email or phone.