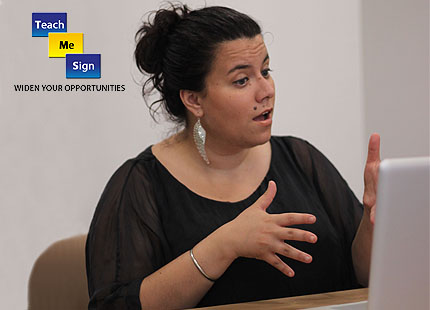 Course Objectives
You can gain your fully accredited certificate in BSL! You will learn with your tutor actively once a week and practise in your own time with Teach Me Sign's online resources. Our learning times are very flexible and we can arrange a time to suit you! Your exams can also be carried out at a convenient time and location to fit in with your lifestyle.
Ideal For Those
Have busy lifestyles
Require flexibility
Unable to get to a class in person
Summary
Busy lifestyle? Work commitments, picking the kids up, want to learn British Sign Language but don't have time? With Teach Me Sign you do!
Can't make it to our classes in person? We have it covered by giving you the opportunity to learn online. We want to make learning British Sign Language with Teach Me Sign accessible to everyone everywhere, so we have created a brilliant online learning experience.
Inclusions
As a student of Teach Me Sign you will have access to amazing online resources such as video's, quiz's and tests that will help practice your signing from the comfort of your own sofa to ensure your learning experience is a successful one.
We never compromise quality; your online learning will be of the same high standard we use in all our classes. We encourage and support our student's and are on hand to contact via email or phone.
Further Information
Courses available: British Sign Language level 1 and British Sign Language level 2
Course duration: Part time, 24 weeks
Accredited by: Signature
Computer requirements: Requires a webcam and broadband connection
BSL Level 1
Tuesday 3rd November 2015
385
2 spaces remaining
Starts: Tuesday 3rd November 2015
When: Every Tuesday
Course duration: 16 weeks
Spaces available: 4
Accredited by: Signature
Required number of students: 3
Payment Options: Available to pay in instalments
BSL Level 2
Tuesday 19th January 2016
525
3 spaces remaining
Starts: Tuesday 19th January 2016
When: Every Tuesday afternoon from 2:00pm to 4:00pm
Course duration: 6 months
Spaces available: 4
Accredited by: Signature
Required number of students: 3
Payment Options: Available to pay in instalments
Certificate in BSL Level 3
TBC
800
Starts: Monday TBC
When: Every TBC
Course duration: approx 11 months
Spaces available: 4
Accredited by: Signature
Required number of students: 3
Payment Options: Available to pay in instalments